All of my research interests are centered around robotic systems, be it control or learning or optimization. The following slide shows some of the common terms that spawn my work.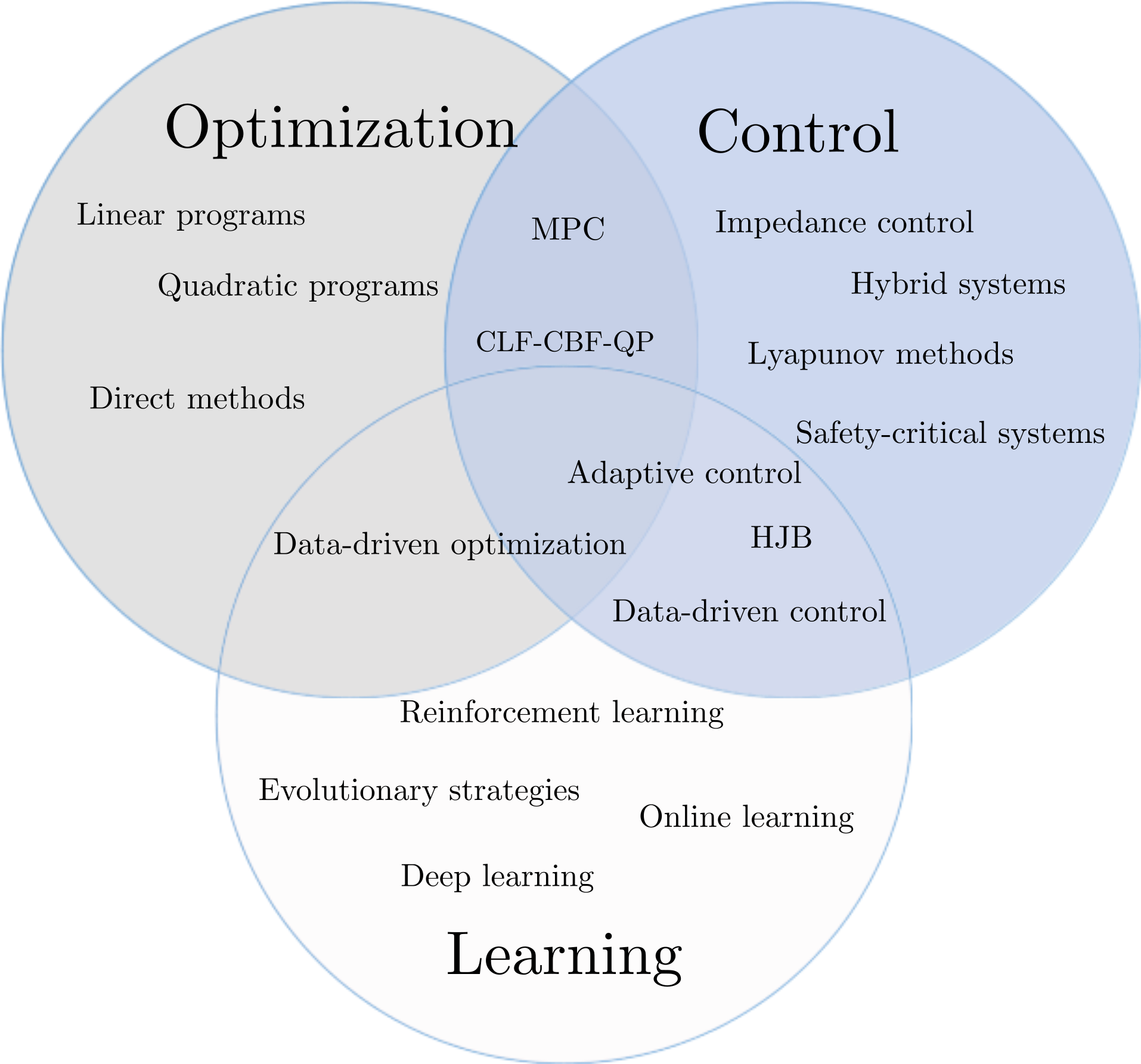 Following are the major directions currently:
1. Safety-critical control of cyber-physical systems
My interests in real-time safety-critical control gradually grew as I worked more and more with industrial robot arms. As we see an increasing use of robots and robotic technology around us, safety will be of critical importance. We need guaranteed margins of safety in order to create a human-friendly environment. Control barrier functions (CBFs) have proved to be extremely effective in real-time QP based controllers. I am currently focusing on introducing some notion of robustness for these safeguarding controllers. The notion of robustness for safety is still in its nascent stages.
Watch the video below where a tunable gain (epsilon) is varied to make the drone more and more conservative in terms of safety.
The brown square indicates the "safe" region, but the destination is outside this region. Since safety takes precedence, the drone is expected to stay inside the square. Due to GPS estimation errors, the drone overshoots away from the boundary, thereby making it unsafe. We have robustified the controller to overcome this overshoot via the notion of input-to-state safety. More details are in this letter:
2. Legged locomotion
Please follow the lab webpage Stochastic Robotics Lab for a more up-to-date information. RBCCPS has a custom built four legged robot (quadruped) called the "Stoch". The main goal is to explore reinforcement learning algorithms to achieve a wide variety of walking behaviours. The quadruped must be able to plan and navigate over a diverse set of environments like flat plains, undulating and slippery surfaces, and also muddy terrains. This is in collaboration with Dr. Bharadwaj Amrutur, Dr. Shalabh Bhatnagar and Dr. Ashitava Ghosal in the centre. See videos below of our recent walking results!
More details are in these papers: